About Us
Welcome to Winnsoft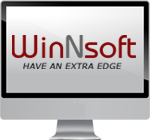 WinNsoft as the name implies, Creating Winners in Software, has launched with a motto of providing and giving expertise to students in all kind of web technologies. We are a Delhi based company and dedicated to develop the web applications and solutions for our clients as well as training of software for new and existing candidates.
WinNsoft is a child venture of WebShree, which is a leader in areas of Website Designing, Website Development, Graphics Designing, Online Marketing, Website Hosting and other major Web Services. WebShree has accomplished great online success with a great portfolio of over thousands of clients across the globe.
Like WebShree, WinNsoft is committed to deliver innovative and quality Software and Web Solutions trainings. WinNsoft provides Six Months Industrial Training, 6 Weeks Summer Training as well as Short Term Training to MCA, BCA, B Tech, B Com and all trades of professional students.
In the recent times, we noticed that the quality of education is deteriorating and the IT Industry is facing difficulty in hiring Skilled Developers among the freshers. There is a huge gap between what is taught in the Colleges and the needs of the Industry. To bridge the gap, WinNsoft decided to start its Training Facility, and focuses on Total Practical Approach. Students get a chance to work in the Real Development Cycle under the guidance of Web Developers and other Team Members.
If a student has worked on a Live Project, it will be quite easy for him to clear the Technical Round of the Interview and get placed in Software Company. We provide an opportunity to the students to work on a Live Project (a Real Live Project) and get hands on experience in website coding, validations, form designing, database designing, hosting the website, database connectivity etc.
Six Months Industrial Training, 3 Months Industrial Training and 6 Weeks Summer Training as well as Short Term Training
Our aim is to provide practical knowledge and experience to the students and make them aware of the work environment. Our trained and skilled developers offer extensive training on live projects and also give hands on experience on the latest technologies that proves beneficial in expanding their creative horizons. Under the appropriate guidance and support of our experts you can get in tune with emerging industrial trends. On the completion of the training, students are provided with a training certificate by WebShree.
Industrial Training @ WinNsoft
Our training program lays emphasis on practical exposure to technologies. WinNsoft offer Six Months Industrial Training , Three Months Industrial Training , Six Weeks Summer Training and Short Term Trainings to the students who have either pursuing their Degree or have completed their degree and eager to enter the Software Industry. On completion of the training the students are fully prepared to work in the Real Time IT Environment.